Inici » Historic » The use of smartphones has increased among seniors
The home broadband is still popular among seniors but smartphones are getting more fashionable. With 51 percent, they are the second most used media the last five years. The Internet is also quite often used with 67 percent. From 2000 until 2016, the average in seniors has raised from 12 percent to 67 percent. In the long term, the Internet has the most increasingly numbers. But in the short term the use of smartphones reached the peak with nearly quadrupled percentage since 2011. It's now almost at the same percentage as the home broadband.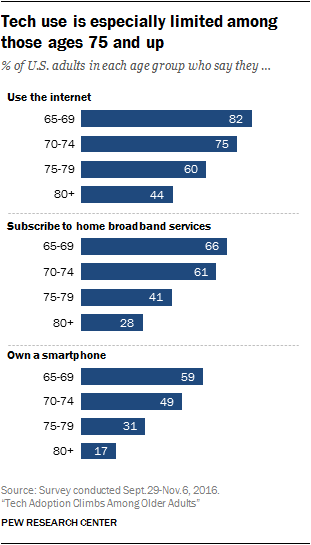 The use of smartphones has raised among all kinds of people because it's very practical. You can read your news on it every morning and stay connected to the people who you like. With family helping seniors they got used to the smartphones and started to use them. The best thing about the smartphone is that you have access to the internet, as well as social media. So you have everything on it. The handy format is easy to take with the seniors.
[youtube https://www.youtube.com/watch?v=reEOSt9Qhgo]
The rise of smartphones: a new era
Old people did not use smartphones or other newborn technologies. With the birth of the Internet, new platforms appeared. Elderly people had to adapt to the new era of smartphones and the Internet. That is why we can see in the infographic that there is an evolution in smartphone usage and especially in the last five years. In 2011, only 11 percent of the seniors used smartphones, which is now at 42 percent in 2016. Before 2011, there was no sign of use of this platform.
Also the use of social media has increased: not only seniors but also adults use social media nowadays. From 2008 till 2016, the use of social media has augmented with an average of 50 percent. It made a huge difference.
Inici » Historic » The use of smartphones has increased among seniors
user3